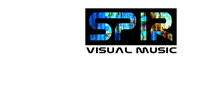 follow the goatee

Spir mixes original created video sources, playing on a midi keyboard,
with digital and analogue mixers, to create seamless integration of
short pre-produced video loops, longer atmospheric pads, live feed
cameras, and video feedback.

He creates his own images and video sound, inspired by the theme
and atmosphere of the artist and song, installation or venue, using
texture, colors, speed, repetition and flow of the images. His
multi-layered video style is one that pushes the line between
abstraction and reality.

He works in close collaboration with each artist, event organizer or
club owner to produce a truly unique experience that will motivate,
inspire and meet the needs and goals of each show.

He can move fluidly in club circles with the ability to mix on multiple
styles of electronic music from drum n' bass to house to down-tempo.
To book Spir contact: